In the late 1960s, conservationists and outdoorsmen alike opposed the ruination of such ecologically and culturally valuable land, ultimately ushering the preserve into the protective arms of the National Park Service. Since then, park rangers have maintained their role as stewards by implementing the Green Parks Plan. After partnering with the U.S. Department of Energy, the Clean Cities National Parks Initiative is gaining momentum. As Big Cypress deepens its commitment to the Climate Friendly Parks Program, it also deepens its relationship with the region's Clean Cities and their shared mission through the Initiative
.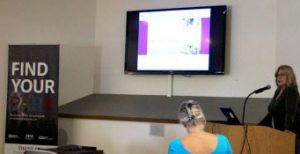 Southeast Florida Clean Cities Coalition was invited to speak about the "Greening Our Rides" component of the Green Parks Plan at a recent Climate Friendly Parks Workshop in Ochopee, Florida. The presentation featured methods for greening a fleet and opened the floor for discussion specifically tailored to Big Cypress National Preserve. The park already boasts a photovoltaic array to power its Welcome Center, but rangers agree that they need to take alternative fuel discussions a step further and apply appropriate alternatives to their fleet. A lively brainstorming session yielded the following starting points for reducing transportation-related GHG emissions:
More employee commuting options (such as telework and carpooling)
Public transportation options to access Big Cypress
Replacement of conventional mowers with propane or electric-powered, as well as minimizing mowing areas
Electric car charging stations for visitors and potential future fleet use
Transition of all-terrain vehicles to utility task vehicles
Development of an idle-reduction campaign within the park
These ideas will be further explored as the partnership between Big Cypress National Preserve and Southeast Florida Clean Cities Coalition continues to develop. Southeast Florida Clean Cities and Big Cypress look forward to becoming leaders in climate change response for Florida parks and preserves.
–  Sofia Thordin, Intern, Clean Cities University Workforce Development Program