Improving the Planning Process to Protect Infrastructure Emerging From Coastal Flood Hazards
Project Overview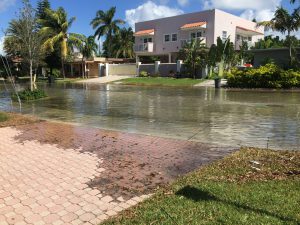 The Infrastructure Protection Resources created within this project are intended to assist local communities mitigate future coastal flooding with two data collection methods. Firstly, in-situ ground-truthing will compare current coastal flooding trends with observed tide gauge trends predicted and measured by the NOAA Tides & Current website. Secondly, structure surveys will be given to local public works staff, city managers, and other relevant stakeholders, to understand the current state of infrastructure in six pilot communities, as well as key challenges and solutions. The communities that will be included in this study are: Marathon and Key Largo in Monroe County, North Bay Village and North Miami in Miami-Dade County, and Dania Beach and Hollywood in Broward County. There will also be a focus on modelling the Coastal High Hazard Area for these pilot communities, given recently improved SLOSH data.
Methods
Part of this analysis will consist of in situ measurements taken by SFRPC during the 2016 Fall King Tide events to document actual water levels in flood hotspots identified for each project community. The assessment of these water level measurements will provide quality assurance and quality control information that may be used to calculate margins of error for modeling methods used by local governments to predict tides. These modeled results will be compared against in situ water level measurements in order to validate modeling methods and to develop hypotheses to explain potential variations.
The Infrastructure Protection Resources will include a survey of local government staff and stakeholders from the pilot communities, identifying the extent of existing and emerging flooding conditions, and any existing or planned responsive mitigation efforts. The results from these case studies will inform the prioritization of local and state infrastructure investments based on identified vulnerabilities for various adaptation options. Resulting findings, including recommended strategies to improve the prioritization of infrastructure investment given existing flooding trends, will be provided as a report.
Data Common Visualizations and PDF maps for Pilot Communities
Dania Beach
Broward County
North Bay Village
Miami Dade County
North Miami
Miami Dade County
Project Manager: Keren Bolter, PhD
kbolter@sfrpc.com