Miami-Dade County Governor Appointee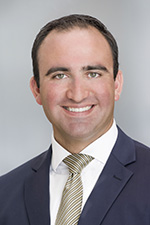 Nelson Hernandez joined Coral Gables Trust in 2016 after working at Wells Fargo Private Bank as a Wealth Advisor Analyst. Prior to that, in 2010, he was elected to serve as a Council Member for the Town of Miami Lakes, serving his term through 2013. Nelson has also been appointed by the Miami-Dade County Board of County Commissioners to serve on the Housing Finance Authority of Miami-Dade County which approves millions of dollars for affordable housing projects throughout the community.
Nelson also has experience in commercial real estate finance having worked as a financial analyst. Nelson is an Executive Board member of the United Way of Miami-Dade County Young Leaders Society and also serves on the Board of Trustees for the American Museum of the Cuban Diaspora located in Miami, FL. Nelson earned his Bachelor of Arts degree in Economics & Political Science from Florida State University and his Master in Business Administration degree from the University of Miami, focusing in finance and accounting.
https://www.cgtrust.com/biographies/54-nelson-l-hernandez